The gold futures contract lost 0.45% on Friday, as it fluctuated following the recent advances. Recently gold was retracing a rally from around $1,800 to August 7 record high of $2,089.20 in reaction to U.S. dollar advance, among other factors. Then gold has bounced from the support level marked by mid-August local low of around $1,875, as we can see on the daily chart (the chart includes today's intraday data):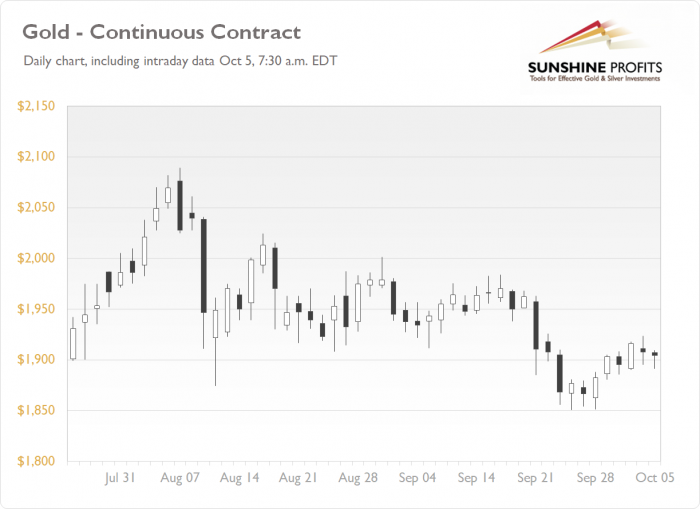 Gold is unchanged this morning, as it continues to trade within a short-term consolidation. What about the other precious metals? Silver lost 0.93% on Friday and today it is 0.8% higher. Platinum lost 0.14% and today it is 0.3% higher. Palladium lost 0.10% on Thursday and today it's 1.5% higher. So precious metals are mixed this morning.
Friday's monthly jobs data release has been worse than expected with Nonfarm Payrolls number at +661,000 vs. the expected +900,000.
Today we will get the ISM Non-Manufacturing PMI release at 10:00 a.m. We will also have Central Banks releases in the coming days.
Let's focus on Friday's Nonfarm Payrolls release. Where would the price of gold go following the news? We've compiled the data since September of 2018, a 25-month-long period of time that contains of twenty five NFP releases. The first chart shows price paths 5 days before and 10 days after the NFP release. The last three cases are marked with dashed lines. Gold gained around 1% in July and September, but in August it lost almost 4%.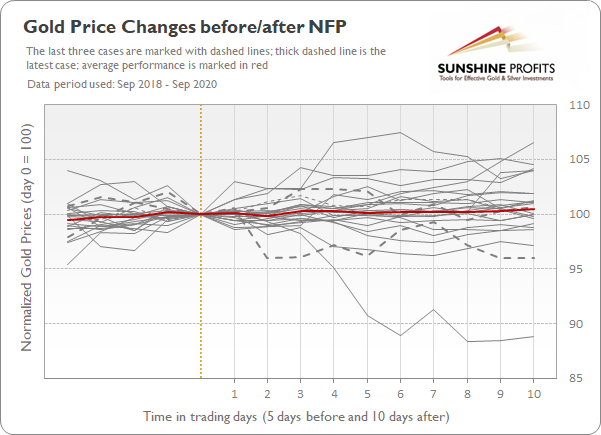 The following chart shows the average gold price path before and after the NFP releases for the past 25 months. The market was usually fluctuating for a week before advancing and closing 0.46% higher on the 10th day after the monthly Nonfarm Payrolls release.
Stay tuned with the exclusive MMSteelClub Newsletter.
Stay tuned with the exclusive MMSteelClub Newsletter.