SILVER PRICES rose on Monday while gold edged higher and European stock markets bounced, shrugging off concerns about a further acceleration of the global Coronavirus pandemic despite mixed economic news, writes Atsuko Whitehouse at BullionVault. Shares in Europe followed a trend set in Asia overnight after mainland Chinese stocks rallied 5.7%, the biggest advance for the Shanghai Composite Index since 2015, apparently led by the state-run Securities Journal pushing what it calls a "healthy" bull market.
The world meantime saw a record rise in new Coronavirus cases over the past 24 hours according to the World Health Organisation (WHO), with over 212,000 people infected on Sunday led by records in the US, Brazil, and India. Gold prices ticked higher by 0.1% to $1777 in London's spot bullion market, while the price of silver – which finds significantly more of its end-user demand from industrial uses – gained 1.2% to $18.29 per ounce.
That cut the Gold/Silver Ratio – which tracks the two formerly monetary metals' relative prices – back down to 97.3, the lowest in 3 weeks. The GSR leapt to new all-time highs at 127 in the middle of March, when the silver price collapsed to 11-year lows amid the Covid Crisis crash in world stock markets. That contrasts with a half-century average of 56, and a historic average across the last millennium of nearer 15-to-1. "Silver's record cheapness to gold helped drive a strong recovery in late Q2," says derivatives platform Saxo Bank's commodity strategist Ole Hansen. "Our bullish outlook for gold will take silver higher."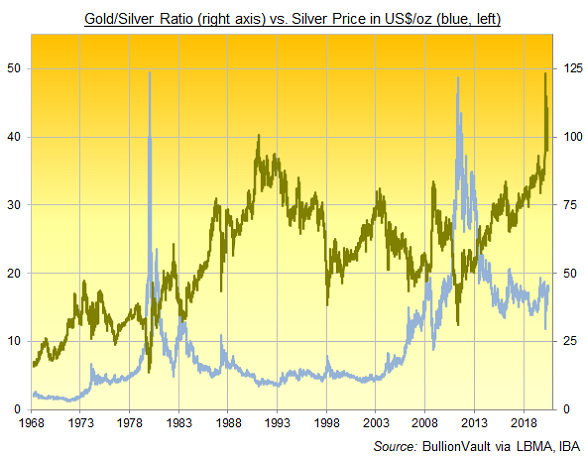 "Silver investment is more than enough to drive the market into deficit," says the latest daily gold-price and precious metals note from Rhona O'Connell at newly-named brokerage Stone X Group Inc, formerly known as INTL FCStone. In 2019, total global supply outstripped demand by 973 tonnes according to the World Silver Survey 2020 published by the Silver Institute, the fourth annual surplus in a row.
Silver-backed exchange-traded products (ETPs) have now expanded by over 25% since New Year, with the world's largest silver-backed ETF – the iShares Silver Trust (NYSEArca: SLV) – growing by 2.2% last week to need an extra 330 tonnes of silver backing, setting a fresh record of 15,614 tonnes.
Net demand to buy physical silver on BullionVault set a three-month record from March to May, also growing total client holdings by also 25%. "Once gold eventually breaks out to challenge its all-time high [at $1900]," say analysts Metals Focus in their latest note, "silver should reassert its ability to outperform gold, with the white metal expected to surpass the $20 mark in late-2020, along with a fall in the gold-silver ratio to the low 90s."