Spot aluminium premiums in China rose for a second day on Wednesday, within striking distance of May's peak, as availability remained tight.
SMM assessed spot aluminium premiums in east China's Shanghai and Wuxi at 200-220 yuan/mt over the July contract on the Shanghai Futures Exchange on Wednesday morning, up from 170-190 yuan/mt in the previous day which was the first trading day after the expiry of the SHFE June contract on Monday June 15.
East China spot aluminium prices, premiums/discounts relative to the front-month contract on the SHFE (SMM assessments)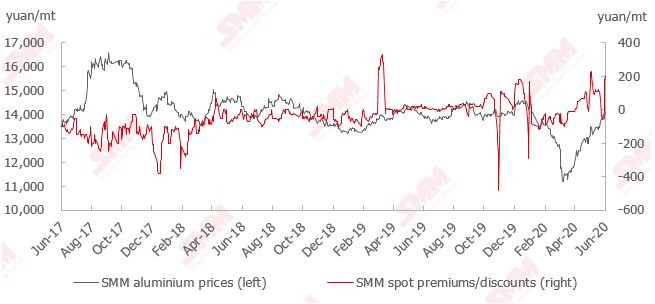 East China spot aluminium premiums hit a peak of 230 yuan/mt on May 20. Rising spot premiums came despite the SHFE July contract on track for a third straight day of gains.
Spot prices in Shanghai, Wuxi and Hangzhou were assessed at 14,080-14,100 yuan/mt this morning, up 120 yuan/mt from the day before.
Chalco purchased as usual, and offered at 14,080 yuan/mt.
Availability tightness prompted sellers to hold their quotes firm, and some held back from discharging cargoes in anticipation of wider premiums. High prices, however, sidelined downstream consumers and overall trades in east China were not brisk.
SMM data showed that social inventories of primary aluminium ingots across eight consumption areas in China, including SHFE warrants, stood at 767,000 mt as of Monday June 15, more than halved from the recent peak notched in early April.