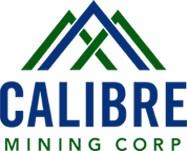 In a Stockhouse Editorial article from February, we reported on an intriguing Canadian exploration and gold mining play in Nicaragua that had delivered exceptionally high-grade gold results from its two 100%-owned operational gold mines. In fact one drill had produced "17.84 g/t Au over 7.0m Estimated True Width (ETW) from 60.6 metres depth in hole." Exploration has since ramped up considerably with the company currently running 14 drill rigs across their substantial land holdings.
Metals & mining investors took note…in a big way. Vancouver, BC-based Calibre Mining Corp's (CXB) (TSX: CXB, OTCQX: CXBMF, Forum) stock skyrocketed from about $0.90 just prior to the February 24th results announcement to $1.82 at press time. CXB's trading volume remains extremely robust, as its market cap has now ballooned to nearly $600 million.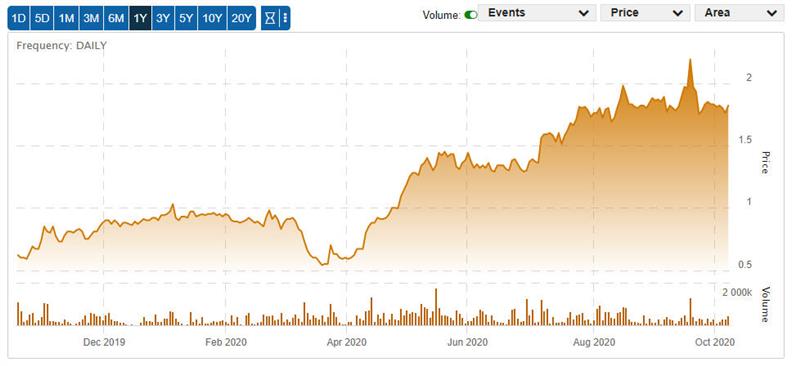 (Click image to link to chart)
Fast-forward to October 7th and Calibre continues to post head-turning results at its La Libertad mine and Amalia exploration property located in the mining-friendly, Central American jurisdiction of Nicaragua. And its Q3 2020 is nothing short of sensational, as the Company reported strong third quarter gold production while cash on-hand at quarter end had increased by 124% to $56 million.
The Company also made waves in February cementing a landmark partnership agreement with mining giant Rio Tinto (NYSE: RIO) – $45 million earn-in agreement for Calibre's 100%-owned Borosi Projects along with a "Strategic Exploration Alliance for Nicaragua."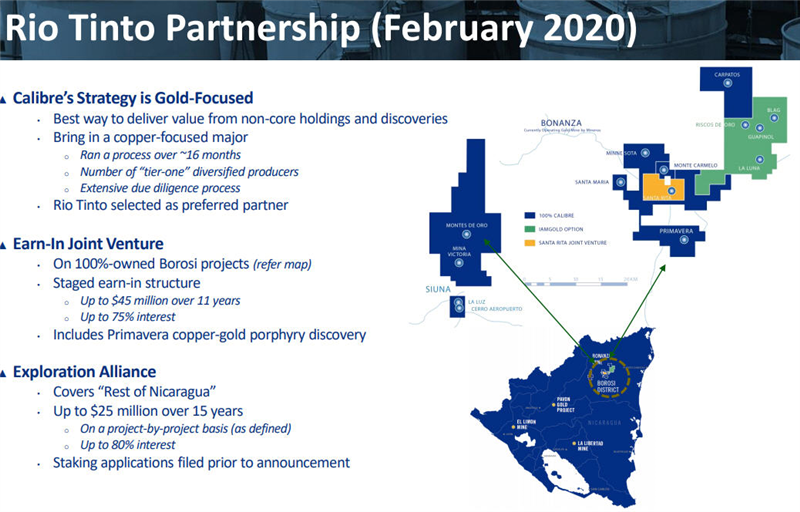 Calibre Mining Q3 2020: Summary/ Major Highlights
Gold production: 45,341 ounces
Gold sales: 44,842 ounces
Cash on hand: $56 million
Received approvals and commenced development of the Pavon Norte open pit mine
Announced multi-year production and cost outlook
Acquired remaining 70% interest in Eastern Borosi Project from IAMGOLD
High-grade drill results reported at Limon, including 149.4 g/t Au over 4.8 metres at Panteon underground and 7.21 g/t Au over 7.6 metres at Limon open pit
Ongoing 80,000 metre drilling program
14 drill rigs currently active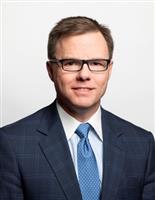 Calibre's CEO, Russell Ball, said that this production demonstrates the benefits of the Company's 'Hub-and-Spoke' operating philosophy.
"The drilling program has ramped up to fourteen rigs with a focus on targets that could quickly translate into organic growth and free cash flow, given our surplus processing capacity at Libertad. With the consolidation of the Eastern Borosi Gold Project, which hosts 700,500 ounces of gold, the focus there has shifted from a stand-alone operation that had to carry in excess of $100 million in CAPEX, to considering the Eastern Borosi as the next satellite pit for the Libertad complex."
Ball went on to report that with roughly 10% of the expected assays in hand, he was excited with the numerous opportunities that lie in front of the team.
"The drilling program has ramped up nicely and we expect to be drilling approximately 12,000 metres a month for the balance of the year."
According to the CEO, Calibre's proven Hub-and-Spoke production concept and operating philosophy has "provided sufficient short-term flexibility to enable us to continue to deliver production in line with our original expectations for 2020."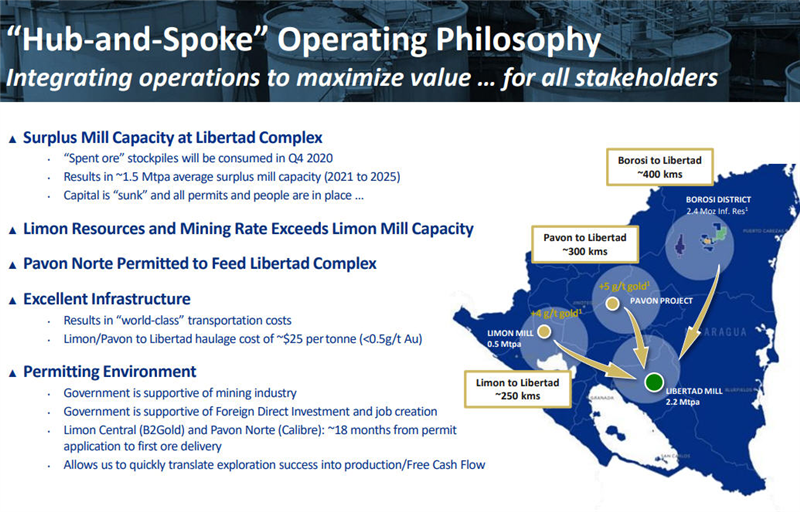 At present, the Company is producing gold from two projects with a third, the Pavon Gold Project, expected to be operational in Q1 2021:
the Limon Mine – a high-grade, open-pit and underground mine with 500,000 TPA mill capacity
and the Libertad Mine – open-pit and underground operations, 2.2 million TPA mill capacity, and district-scale exploration opportunities.
Calibre is "multi-asset gold producer" meaning the Company owns and operates multiple mining operations that extracts, processes, mills and smelts the precious metal…a complete turnkey operation from beginning to end.
Calibre remains focused on its 80,000-metre drilling program, which is currently operating 14 active drill rigs. This work consists of various infill, resource expansion, and discovery activities, while focusing on new targets that could quickly translate into organic growth and free cash flow, given a surplus in processing capacity at Libertad.